As an accomplished motivational public speaker, Dr. Mustin has addressed audiences throughout the United States and Canada. She has an extensive broadcasting career and produced and presented "The Success Connection" for radio as well as "The Power of Positive Living" for television. These informational and inspirational programs include topics related to healthy relationships, personal development and peak performance and played on drive-time radio as well as prime time television. She is a frequent contributor to radio, television and periodical features on state-of-the-art developments in the fields of psychology, leadership and neuroscience. Dr. Mustin has been a featured speaker for the Austin Business Journal's "Profiles in Power," honoring the state's most powerful and influential women.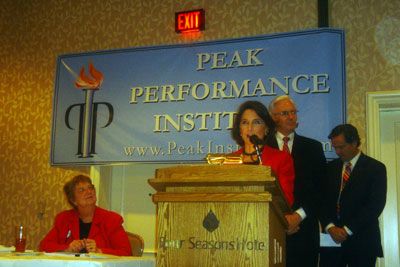 If you would like to inquire about bringing Dr. Jan Ford Mustin to speak at your event or agency, please contact the office at (512) 347-8100
Upcoming Speaking Engagements:

TBA


Recent Speaking Engagements:


Friday, August 12, 2016

Emotional Survival for Law Enforcement


- Westlake Police Department: Austin, TX

Tuesday, October 20, 2015

EEG Neurofeedback & Quantitative Electroencephalogram: A Comparative Case Study

- San Marcos Treatment Center: San Marcos, TX

Wednesday, November 11, 2015

Lake Travis High School Football Story and the Art and Science of the

Zone: How

Relaxation and Neuroscience Can Improve Your Golf Game

- Lakeway Men's Breakfast Club: Lakeway, TX

Popular Topics:
"Removing Your Roadblocks to Love, Happiness and Success"


"The Art, Heart and Science of Peak Performance: Removing Roadblocks for Students, Athletes and Parents"




"People Who Love Too Much"




"Love You Can Live With"




"Freedom from Codependency"




"Just Do It! Action Steps to Success"

"Relationships: The Best is Up to You"




"The ABCs of the Way We Feel"




"Exceeding Yourself: Creating Balance and Sustaining Success"




"A Better Way to Live: Practical Tools for Positive Change"

"The New Spiritual

Psychology"

"Mission Possible"




"Change Your Image, Change Your Life"




"Transformational Psychology"




"Re-inventing Your Life"




"The Super Woman Syndrome"




"Recovery: Neuroscience and Real Life"




"The Seven Habits of Highly Effective Parents"




"Positive Psychology"




"Neurotherapy: New Breakthroughs in Drug-Free Treatment of Attention-Deficit/Hyperactivity Disorder"




"Reward Deficiency Syndrome: Teens at Risk"




"Neuroscience: How Leading Edge Technology Assists in Differential Diagnosis for Individuals with AD/HD, Affective Disorders and Other Psychological Diagnostic Conditions"



"Neuropsychology: Advances in Precision of Diagnosis and Treatment of Childhood and Adult Disorders"

"The New Neuropsychology: Advances through the Blending of Traditional Clinical Wisdom and Breakthrough Advances"


Partial List of Former Speaking Engagement Clients: